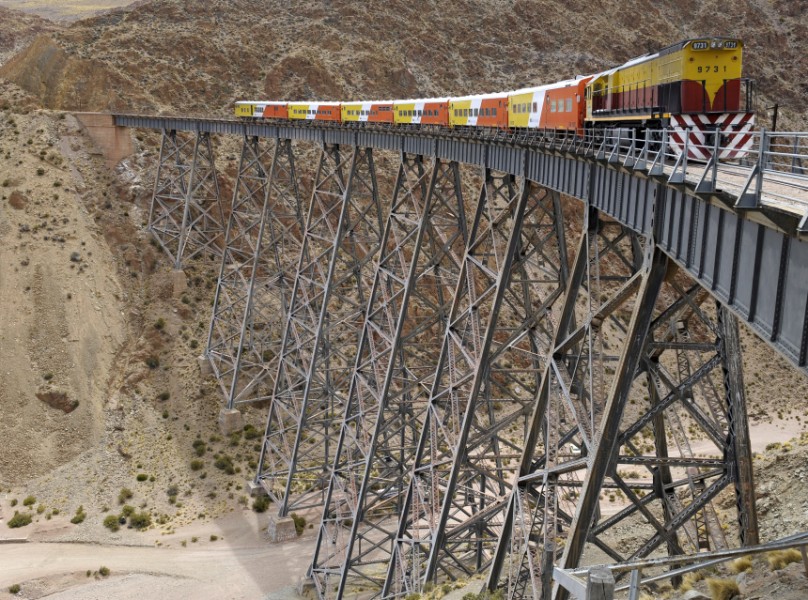 The Tren a las Nubes is a tourist train that runs onto one of the world's highest railway, in the eastern part of the Salta-Antofagasta railway line, also known as the "C-14", connecting the Argentine Northwest with the Chilean border in the Andes mountain range, over 4.000 meters above sea level.
That railway track was made to facilitate the transportation of ore between Argentina and Chile, especially saltpeter, of which this area is very rich. The railway construction started in 1921 and the first race of the Tren a la Nubes dates back to 1972. Nowadays the train track is one of the most popular touristic routes in South America.
The railway line has 29 bridges, 21 tunnels and 13 viaducts. The most spectacular view is definitely the viaduct Polverilla: the curved viaduct is 224 m long and 64 m high; here it justifies its name: it is not uncommon, given the height, to see clouds beneath the track, making surreal the train trip that seems to run in the sky.
There are many stops along the way (some with markets selling artisan goods and locals offering regional food), including the town of Ingeniero Maury, (78 Km from Salta), so named in honor of the engineer Richard Fontaine Maury born in Pennsylvania, creator and director of the railway works.
Richard Maury took over the project discarding the rack system commonly at the time. To ensure the safety of passengers and goods he arranged the tracks in a special way so that the train, running through a system of zigzags and spirals, never lose contact with the soil underneath.
Currently, the train route has been reduced to the round trip from San Antonio de los Cobres to the Polvorilla Viaduct.
The complete circuit 2016 (217 km) is served by bus and train: it departs by bus from the city of Salta every Saturday (from April to September; in July also makes midweek departures), crossing Campo Quijano and Governor Solá to reach the spot Alfarcito, through the Quebrada de las Cuevas and then plain Muñano to reach San Antonio de los Cobres, where the travelers boards on the train to the Polvorilla Viaduct.
The train journey takes an hour to the viaduct, at 4.200 meters above the sea level, after 30 minutes back to San Antonio de los Cobres where passengers return to board buses to the city of Salta.