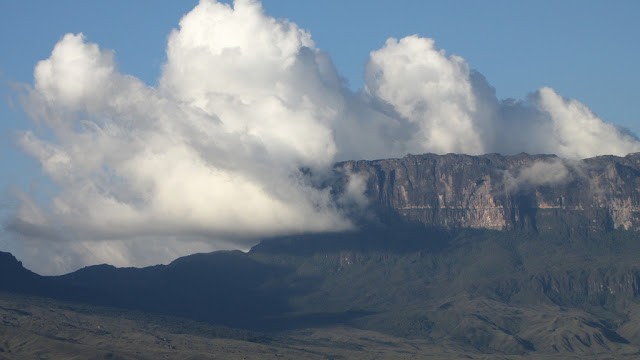 Located at the punto triple, the border between Brazil, Guyana and Venezuela, the Mount Roraima (Roroi-ma) is, along with the Auyantepui (where is the Salto del Angel, the world's highest waterfall), the most famous Tepui in South America.
The Tepui (in Pemòn language "house of the Gods") are table-top mountains formed after the erosion of the sandstone plateau that once covered the granite base between the Amazon forest and the Orinoco River, and between the Atlantic coast and the Rio Negro.
According to the beliefs of the Pemòn (people who inhabited the Gran Sabana area for centuries), Mount Roraima was originally a huge tree which bore all the fruits and vegetables of the world. After the tree fall, his stump, turned to stone, later became the house of the Gods. Due to his sacred status, the Pemòn people never attempted to climb the Roraima, so the mountain remained unexplored for many years.
The first exploration was led by Walter Raleigh, in 1596; later, the legend of Mount Roraima was the inspiration for the Scottish writer Arthur Conan Doyle in his novel The Lost World (1912) and for the Werner Herzog's movie The Wild Blue Yonder (2005).
Today the Mount Roraima can be visited (joining a guided tour) by travelers and tourists: with its beautiful natural landscapes including the Valley of the Crystals, the sinkhole El Foso and the Labyrinth it is one of the most fascinating destinations of the American continent, although there are no lost world's dinosaurs.