Travel Check-List
Passport expiry date (many countries require at least 6 months of validity left). It can be useful a digital/photocopy of the passport
The expiry date of other personal documents (driving license, etc..), international driving license, if required
Vaccinations
Visas
Climate — check on mTm
Country safety (health, political stability)
Health/Travel insurance — World Nomads
Accommodations bookings if needed — Booking.com
Credit card/bank habilitations
GPS maps download
Embassy registration
Flight tickets/travel documents (bookings, car rental, etc..)
Emergency/embassy telephone numbers
Medicines kit
Electricity power adapter
Guidebook
Emergency snacks
Phone credit / data roaming
Remove garbage from home
Go
International SOS Travel Risk Map

Check the updated world map for health and security risks: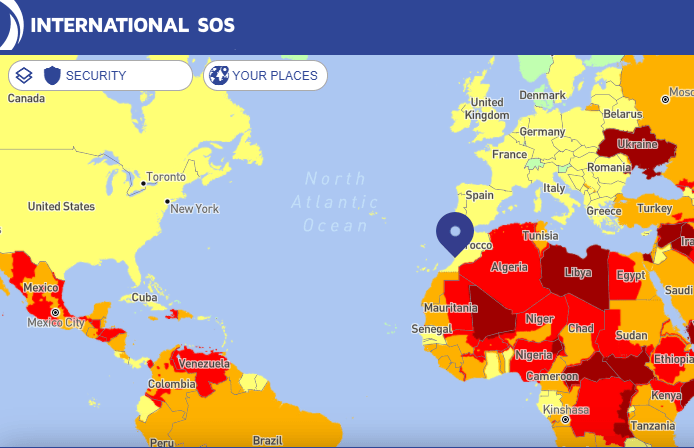 International travel and health
Before travelling, always check well in advance (usually you need to book an appointment) with your health service which vaccination you will need in the country you are going to visit.
You can check for vaccinations on the World Health Organization website or NHS Fit For Travel website.
Disease distribution maps (links):
Coronavirus COVID-19
Chikungunya
Cholera
Crimean Congo HF
Dengue
Hepatitis A
Hepatitis B
HIV infection
Japanese encephalitis
Malaria
Meningococcal disease
Poliomyelitis
Rabies
Schistosomiasis
Tuberculosis
Typhoid Fever
Yellow Fever
Flight and accommodation booking
Pay attention to the day you book: flight prices depend on the day and the time you book during the week, not just on how much in advance than the departure date you book.
Check the website of your destination airport; you could find more flights, including charter airlines not shown on online flight websites.

Connect to a VPN network before booking. Hotels and airlines' prices change depending on your location. Change your location to a lower-income country or your destination country and you will have lower prices.
It is suggested to always clear your browsing history and your cookies, or browse from an incognito window before you start searching.
Baggage tips

Take pictures of your baggage: in case of loss, this will help to identify it.
Label with "fragile" your baggage: it could be handled with much care and placed on top before being carried on the plane and you can claim it faster at the airport.On the plane
If you suffer from motion sickness, book a seat close to the plane's wings: there the turbulences are minimized. Always carry with you additional clothes: air conditioning on the plane could be really annoying.

Where to change money?

Before leaving:
Your bank: you can order foreign currency at your bank (ask for the amount of the exchange fees), you could have to wait some days, so order money in advance;
Online websites: you can order currency from websites and you will receive it at home by secure delivery service, but in addition to exchange fees you will pay shipping fees too.
Abroad:
Withdrawal at ATM is usually one of the best ways to get local currency, exchange fees depend on your credit card and your bank.
Exchange offices: always check exchange fees before changing money, sometimes you can find a convenient office, sometimes it could be the worst choice; avoid exchange offices in the airports or hotels, they add high fees to your transaction
List of left-hand driving countries
Oceania
Australia, Bermuda, Christmas Island, Cocos (Keeling) Islands, Cook Islands, Fiji, Kiribati, Nauru, New Zealand, Niue, Norfolk Island, Papua New Guinea, Pitcairn Islands, Solomon Islands, Samoa, Tokelau, Tonga, Tuvalu
Asia
Bangladesh, Bhutan, Brunei, East Timor, Hong Kong, Indonesia, India, Japan, Macao, Maldives, Malaysia, Nepal, Pakistan, Singapore, Sri Lanka, Thailand
Africa
Botswana, Kenya, Lesotho, Malawi, Mauritius, Mozambique, Namibia, Seychelles, South Africa, Swaziland, Tanzania, Uganda, Zambia, Zimbabwe
Europe
Akrotiri and Dhekelia, Cyprus, Guernsey, Ireland, Isle of Man, Jersey, Malta, United Kingdom
South America
Falkland Islands, Guyana, Suriname
Caribbeans
Anguilla, Antigua and Barbados, Bahamas, Barbados, British Virgin Islands, Cayman Islands, Dominica, Grenada, Jamaica, Montserrat, Saint Kitts and Nevis, Saint Lucia, Saint Vincent and the Grenadines, Trinidad and Tobago, Turks and Caicos Islands, U.S. Virgin Islands
Other Islands
Saint Helena, Ascension and Tristan de Cunha, South Georgia and South Sandwich Islands
General travel tips

Visit the local tourism office: there you can find additional information you haven't in your guide, especially events happening during your stay, free activities and more.
Take care of your personal effects and documents: never carry your wallet, your phone, or your passport in your back pocket.
Ask local people for every kind of travel information; remember that local people always know their own country better than you and they could give you important information and tips about your trip.