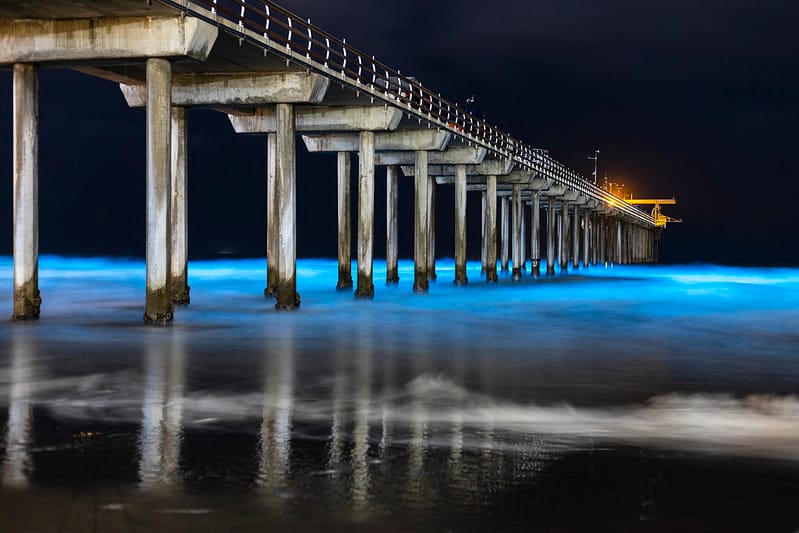 Bioluminescence is light produced by living organisms through a chemical reaction between a light-emitting molecula and an enzyme or a photoprotein, generally luciferin and luciferase. The reaction sometimes requires other cofactors such as ATP, calcium or magnesium. Some organisms synthesize luciferin on their own, others absorb it through other organisms.
Bioluminescence produces cold light, since the process does not emit heat, and it is different than fluorescence, which does not involve a chemical reaction and the light is just re-emitted after being absorbed.
Bioluminescence is used for many different purposes like hunting, defense against predators, warning, attracting mates, camouflage and even communication, by a wide range of animals and other living creatures such fireflies, glow worms, railroad worms, centipedes, snails, annelids, fish like anglerfish or lanternfish, invertebrates, krill, cnidarians, coral, jellyfish, crustaceans, bivalves, sea slugs, cephalopods, octopuses, squid, fungi, bacteria and other microorganisms.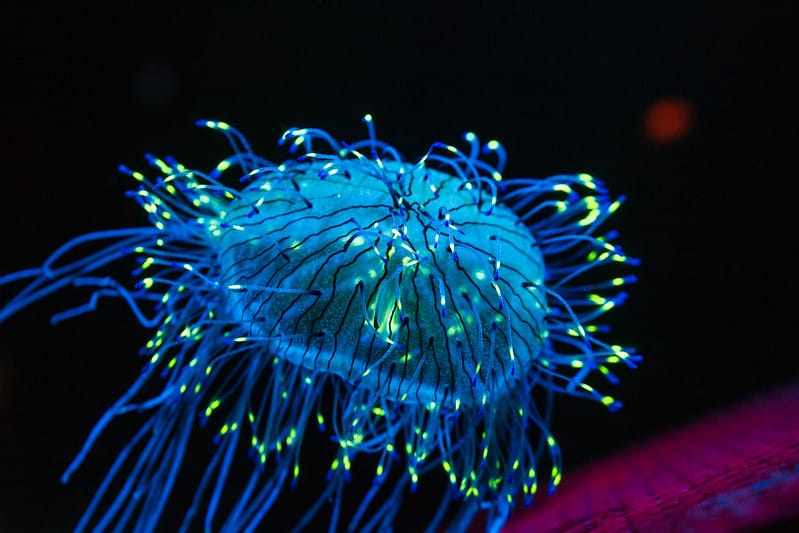 Thanks to this unusual phenomenon, these creatures create magical habitats such as bioluminescent marine bays, caves, woods and other spectacular landscapes.
Bioluminescence is a target for biology, medicine and engineering research for various experiments such as a new font of light or alternative uses in medicine.
Here is a complete list of the best places in the world where you can witness bioluminescence:
Big South Fork, Tennessee/Kentucky, USA
Titusville and Merritt Island, Florida, USA
Torrey Pines State Beach, San Diego, California, USA
Great Smoky Mountains, Tennessee, USA
San Juan Island, Washington, USA
Dismals Canyon, Alabama, USA
Space Coast, Florida, USA
Manasquan Beach, New Jersey, USA
Indian River Lagoon, Florida, USA
Salt River Bay, St. Croix, US Virgin Islands
Manialtepec Lagoon, Mexico
Isla Holbox, Mexico
Nichupte' Lagoon, Mexico
Luminous Lagoon, Jamaica
Little Corn Island, Nicaragua
Bocas del Toro, Panama
Punta Cuchillos, Costa Rica
Golfo Dulce, Costa Rica
Mosquito Bay, Vieques, Puerto Rico
Laguna Grande, Fajardo, Puerto Rico
La Parguera, Lajas, Puerto Rico
Goias, Brazil
Kumbalangi, Kerala, India
Goa, India
Vaadhoo Island 'Mudhdhoo Island', Maldives
Reethi Beach, Maldives
Ko Lipe, Thailand
Koh Phi Phi, Thailand
Ton Sai, Thailand
Koh Tonsay 'Rabbit Island', Cambodia
Koh Rong, Cambodia
Tusan Beach, Malaysia
Padang Bai, Bali, Indonesia
Matsu Islands, Taiwan
Sam Mun Tsai Beach, Hong Kong
Cat Ba Island, Ha Long Bay Area, Vietnam
Toyama Bay, Japan
Hachijō-jima, Japan
Coles Bay, Tasmania
Gippsland Lake, Australia
Springbrook Park, Australia
Jervis Bay, Australia
Waitomo caves, New Zealand
Lough Hyne Nature Reserve, Cork, Ireland
Aberavon Beach, Port Talbot, Wales
Three Cliffs Bay, Swansea, Wales
Grouville, Jersey
Norfolk, UK
Zeebrugge, Belgium
The Blue Grotto, Malta