The gigantic blue whale is the biggest animal on earth: up to 30 meters long and 150-170 tons of weight (like about 2000 men!). Its tongue can have the same weight as an elephant and its heartbeat can be detected from more than three kilometers.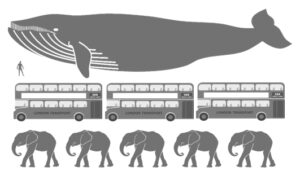 The blue whale name comes from the underwater colour, although his body is actually grayish-blue.
His diet mainly consists of krill, small crustaceans of which a blue whale can eat up to 4 tons every day (about two million of them!).
According to recent scientific studies, the life expectancy of a blue whale is up to 70-90 years and can be determined by the layers of their earwax.
The blue whales emit a particular vocalization sound that permits them to hear each other: the low-frequency sounds may travel up to more than 1500 km underwater.
World's best places for blue whale watching:
Canada
Saguenay Fjord
from June to October
Iceland
Hùsavìk
from May to August
Azores
Pico Island
April, May
U.S.A.
Monterey Bay, California
San Diego, California
from June to October
Mexico
Baja California Sur
from January to March
Sri Lanka
Mirissa
from December to April
Trincomalee
from March to August
Chile 
Corcovado Gulf
from January to April

Australia
Perth Canyon
from March to May
New Zealand
Kaikoura
July, August