Sir William Wallace (1270-1305) was a Scottish knight, member of the lesser nobility and the main leader during the wars for the independence of Scotland. He became the national hero and the symbol of the Scottish people's freedom.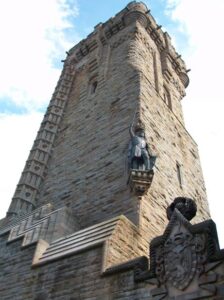 The execution of Wallace was one of the roughest of the history: after his capture by the English army (5th August 1305), on 23rd August 1305, at the Tower of London, he was stripped naked and dragged through the city at the heels of a horse, then he was hanged but released while he was still alive, eviscerated (his bowels were burned), beheaded and then cut into four parts.
His head was placed on a pike on the top of the London Bridge; his limbs were displayed, separately, in Stirling, Berwick, Newcastle and Perth.
William Wallace was the protagonist of Blind Harry's epic poem "The Wallace" (1479) and Mel Gibson's movie "Braveheart" (1995), winner of five Academy Awards. The English heavy metal band Iron Maiden dedicated to the story of Wallace the song "The Clansman" (1998) and the German band Grave Digger dedicated him their song "William Wallace (Braveheart)" (1996).