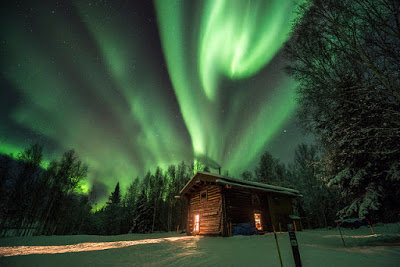 The Polar Aurora, well known as Aurora Borealis/Australis or Northern/Southern Lights depending on which hemisphere it occurs, is an optical phenomenon of the atmosphere, characterized by green, blue and red luminous bands with a different range of shapes.

The phenomenon, visible in two stripes around the magnetic poles and more intense and frequent during high solar activity, is caused by the interaction of charged electrons of the solar wind with the earth's ionosphere (a process similar to the neon lamp light).
The color depends on the atmosphere's gases: atomic oxygen is responsible for the green, the molecular oxygen for the red and nitrogen for the blue color.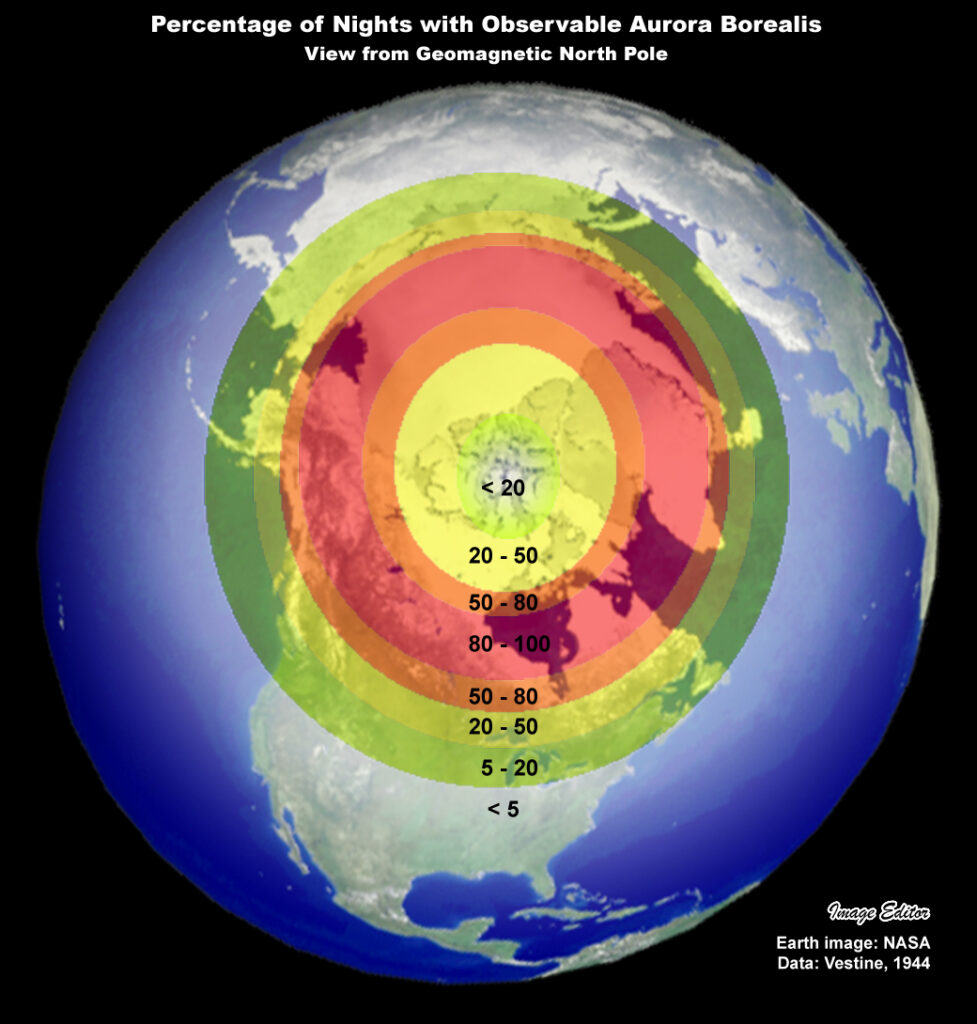 According to old myths, the Northern Lights appear for the Inuits like souls playing with walrus skulls, for Lappish they are created by the tail of a big fox that hits the snow and it is believed that children conceived beneath them are more intelligent and lucky.
In Central Europe, they were considered a bad omen due to the predominance of red in its colours.
Best places to see Northern Lights / Aurora Borealis (the best period is from September to April):

Iceland: Kirkjufell, Reykjavik, Jökulsárlón Lake, Þingvellir National Park
Norway: Svalbard Islands, North Cape, Tromsø, Alta, Karasjok
Finland: Kakslauttanen Arctic Resort, Inari Lake, Sodanklya, Luosto
Sweden: Abisko National Park, Kiruna region
Alaska, USA: Fairbanks, Denali National Park, Juneau, Barrow, Coldfoot
Canada: Mucho Lake Provincial Park, Yukon, British Columbia, Yellowknife
Greenland: Kulusuk, Ammassalik, Kangerlussuaq
Fær Øer Islands
Russia: Kola Peninsula
Scotland: Caithness coast
Ireland: Donegal region, Malin Head, Antrim region
Best places to see Southern Lights / Aurora Australis (the best period is from March to September):

Antarctica 
New Zealand: Stewart Island, Lake Tekapo, Aoraki Mt Cook National Park, The Catlins
Australia: Mount Wellington (Tasmania), Victoria
Argentina: Ushuaia
South Georgia Island
Falkland Islands