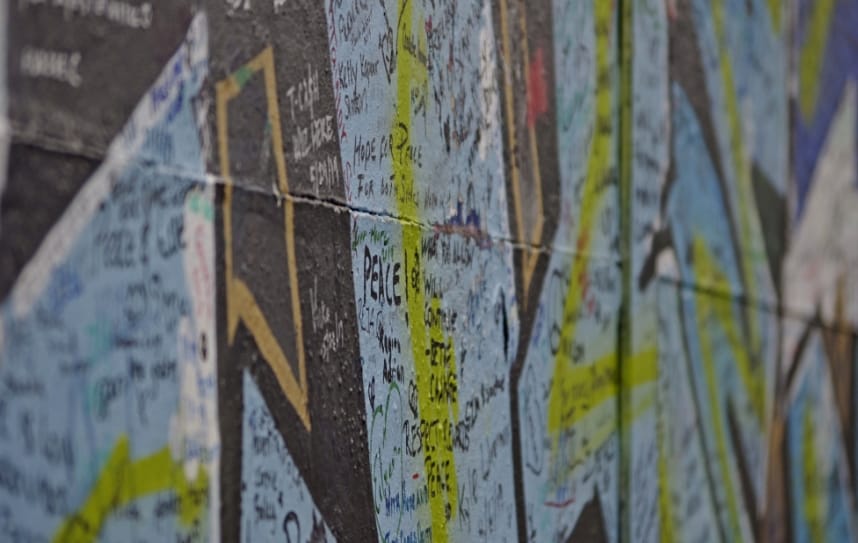 Some of the Northern Ireland's neighborhoods are still divided by walls: the Peace Walls (or Peace Lines) separate the nationalists/Catholics/Irish from the loyalists/Protestants/British people.
Most of them are in Belfast, others are also existing in Portadown, Derry and Lurgan, with a total length of around 34 km; some of them have gates that are opened only during daylight.
The walls were initially built as a temporary structure to avoid the violence episodes; the first peace line is dating back to 1969 in Belfast after the riot that had involved nationalists, loyalists and police that caused more than 150 homes destroyed, almost two thousand families evacuated, 8 killed and more than 700 injured people.
The number of the walls have raised from less than 20 in the early 1990s to more than one hundred nowadays; there was also an increase after the Irish-British Good Friday Agreement of the 10th April 1998.
According to the public local opinion, the walls are still necessary to maintain the peace and avoid the violence in those areas: the majority of the people still think that more time is needed to change the mentality that has caused lots of conflicts in the past.
In September 2017, the Northern Ireland Department of Justice published its Interface Programme, which intention is removing all the structures by 2023.
Reading the messages of thousands of people marked on the Peace Walls, it is evident that the thought of the people, with or without walls, is still aimed at peace.